We've got plenty to talk about after Odyssey's 3 Tour wins on Sunday, the X Hot Pro Driver's victory in Africa and Fredrik Jacobson's great week at Riviera. And we've got equipment news for Phil Mickelson and Ernie Els. Let's get into it.
NEWS
Odyssey Wins On LPGA, PGA and European Tours
The #1 Putter in Golf lived up to its billing on Sunday with convincing wins on the LPGA, European and Champions Tours. Odyssey dominated all over the globe and a White Pro Rossie won the first LPGA Tour event of 2013. Here's a quick breakdown to get you up to speed.
LPGA Tour Win: White Hot Pro Rossie (ISPS Handa Womens Australian Open)
European Tour Win: White Ice Sabertooth #2 (Africa Open)
Champions Tour Win: White Hot 2-Ball Long Putter (ACE Group Classic)
With these impressive wins, Odyssey now leads all putter brands with 7 wins across the major worldwide Tours this year. Did we mention these putters are pretty good? Throw in Versa's immediate popularity on the PGA Tour and you can see why we're pumped about Odyssey.
X Hot Pro Driver Wins On European Tour
Meanwhile, the X Hot Pro Driver delivered on the European Tour with a great win at the Africa Open. X Hot Pro and RAZR Fit Xtreme have already won on Tour this year; the biggest moment of course being Phil Mickelson's victory at the Waste Management Phoenix Open.
Do you remember that win? Something about Lefty shooting 60 in the first round and finishing 28-under? They put it in the newspaper and everything. Anyway, these drivers continue to win on Tour, and it's been fun to watch.
Jacobson Finishes T3 At Riviera
Callaway staffer Fredrik Jacobson nearly earned a spot in a playoff and ultimately finished T3 at the Northern Trust Open. Freddy used a full bag of Callaway equipment, including a HEX Black Tour Ball and his new Odyssey Versa #7 Black/White/Black Putter.
Our Tour Reps have told us that Jacobson immediately liked the look of his Versa Putter when he first tried it during the offseason, and said that the Black/White/Black color scheme particularly helped him align putts.
Freddy shot 68-65-72-69, finished T3 in GIR and sported his stylish painter's cap throughout the Northern Trust Open. He's now posted a T7 and a T3 in the last two weeks and is 18th on the money list after just three starts this year.
And since we've already thrown a bunch of stats at you, we might as well tell you that Jacobson leads the Tour in strokes gained – putting and ranks second in scoring average. Well done, sir.
NOTES
Mickelson Puts In New X Hot 3-Wood, RAZR Fit Xtreme 5-Wood
Our man Phil Mickelson started testing X Hot Fairway Woods at the Farmers Insurance Open, and last week he put in a new X Hot Prototype 3-wood along with a RAZR Fit Xtreme 5-wood and a Versa #9 White/Black/White Putter.
His 3-wood has a 13° head with a deeper face and Phil uses it primarily off the tee. The shaft is a 43.25" Fubuki K 70x. We don't speculate too often here, but we think this club could help him at a certain upcoming event where they give out a nice green jacket to the winner. Just a thought.
Els Plays New Versa Putter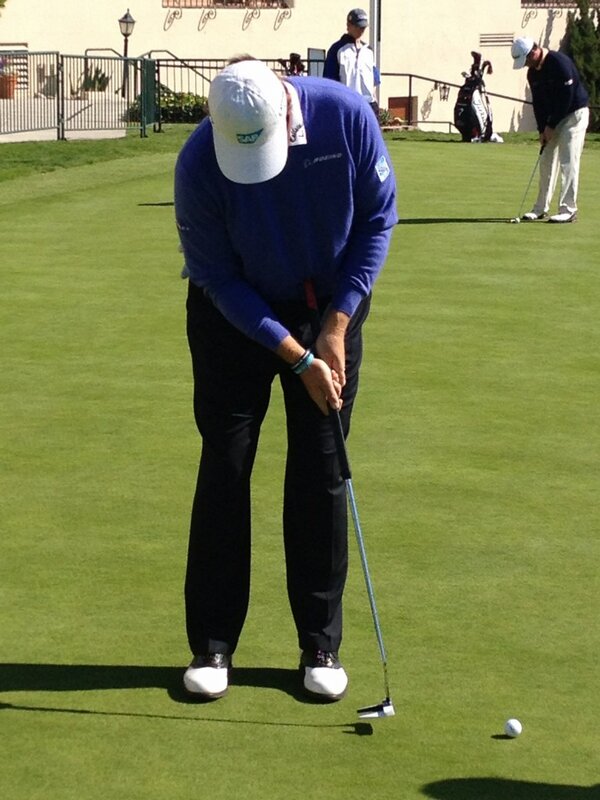 Ernie Els used his new custom Odyssey Versa #7 Belly Putter in a solid performance at Riviera. Specifically for Ernie, the Odyssey Team took the standard White Hot XG #7 head that Ernie had been using and applied the Versa White/Black/White high contrast alignment paint pattern. Ernie practiced with this putter for several weeks and felt comfortable enough to put it in the bag last week.
Quick tangent: we've been so fired up by the initial response for Versa on Tour. Phil's playing it, Ernie's playing it, Freddy's playing it and it seems like every week at least one more big name player puts Versa in their bag. The high contrast alignment has been a hit with the world's best players, and our Tour Trailer guys are working overtime to keep up with all the requests they've been getting. Hey, it's a good problem to have.
ANECDOTES
Harry Making Progress In The Great Experiment
If you've ever met our SVP of Marketing Harry Arnett, you know that he's absolutely obsessed with all things golf, from equipment, to fitting, instruction and how people play the game. That's why he's combined all these elements into a new experiment, where he's getting fit for all new clubs and working with our Director of Fitting and Instruction Randy Peterson to see where he can take his game.
We'd dive deeper into this but Harry's got it under control with his new blog posts. For great laughs and a unique insight into Harry's personal club fitting journey, check out his Great Experiment blogs.